Spring is around the corner, and with every changing season I go through my wardrobe to see which clothes I want to keep using the following season and which ones I want to put away for a while.
Everything is about styling and combining the clothes in new creative ways to make them feel new and ready for a new season. We have gathered our favorite clothes from the fall and winter season and re-styled them for spring! Let us know which styling is your favorite in the comments below!
Let yourself be inspired!
BEATA - a hot color bomb
BEATA STRETCHPANTS NECKLACE LEATHER BOOTS

You don't always need leggings or stockings with a shorter dress. Why not try soft stretchpants combined with a Beata-dress and a big necklace? The warm tones of the dress makes me as happy as the sun in spring. Here the BEATA shines combined with the STRETCHPANTS in mustard and the NECKLACE is definitely the icing on the cake.
BEATA - flowers in sunshine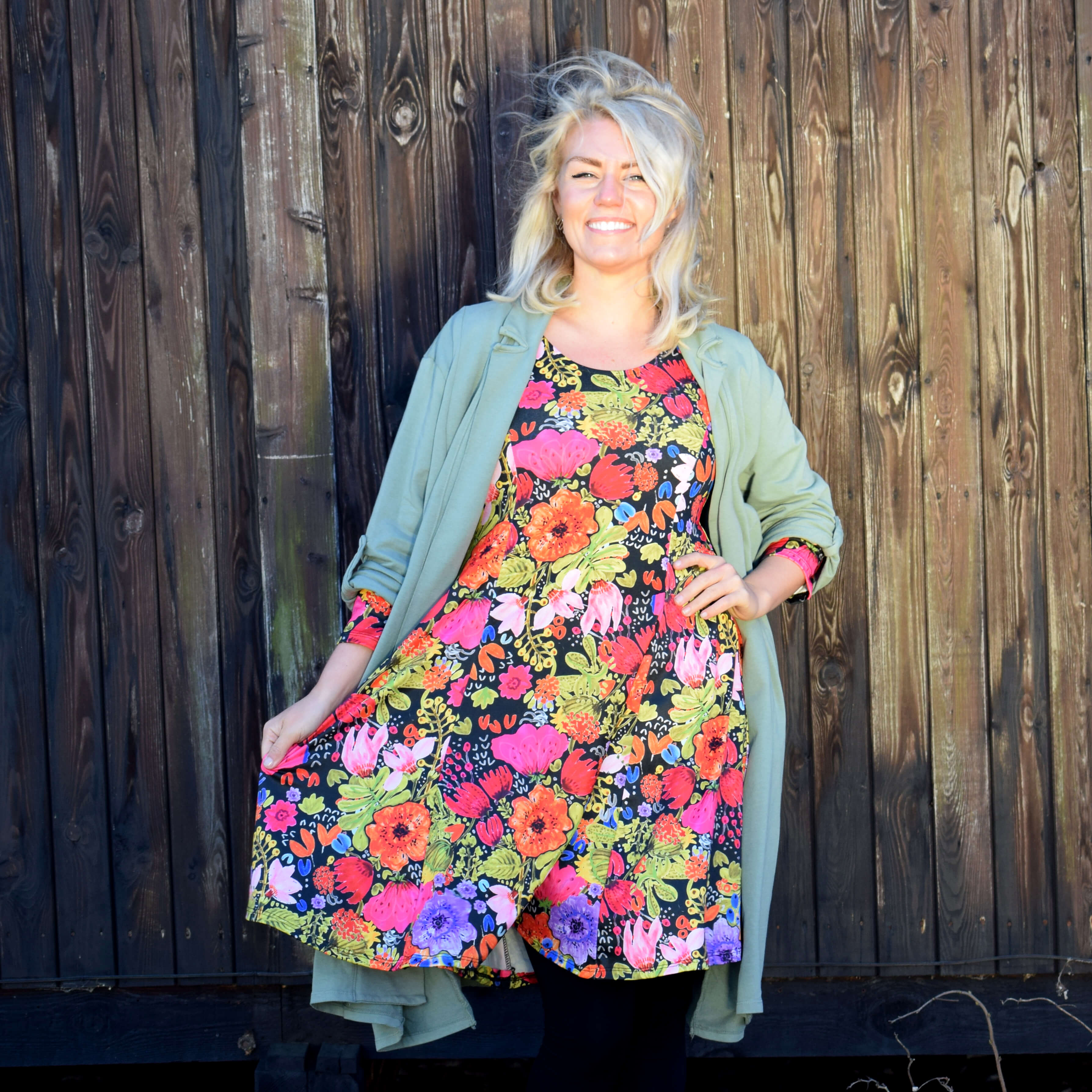 BEATA JACKET LEGGINGS LEATHER BOOTS

Your favorite dress does not have to be left hanging in the wardrobe just because the party is over. Here we combined this floral BEATA with a soft and comfortable JACKET in cotton and black LEGGINGS. The outfit is suitable for work and the jacket keeps you warm before the summer sun starts shining ;) When the jacket comes off you're ready for the party!
BEATA - play with contrasts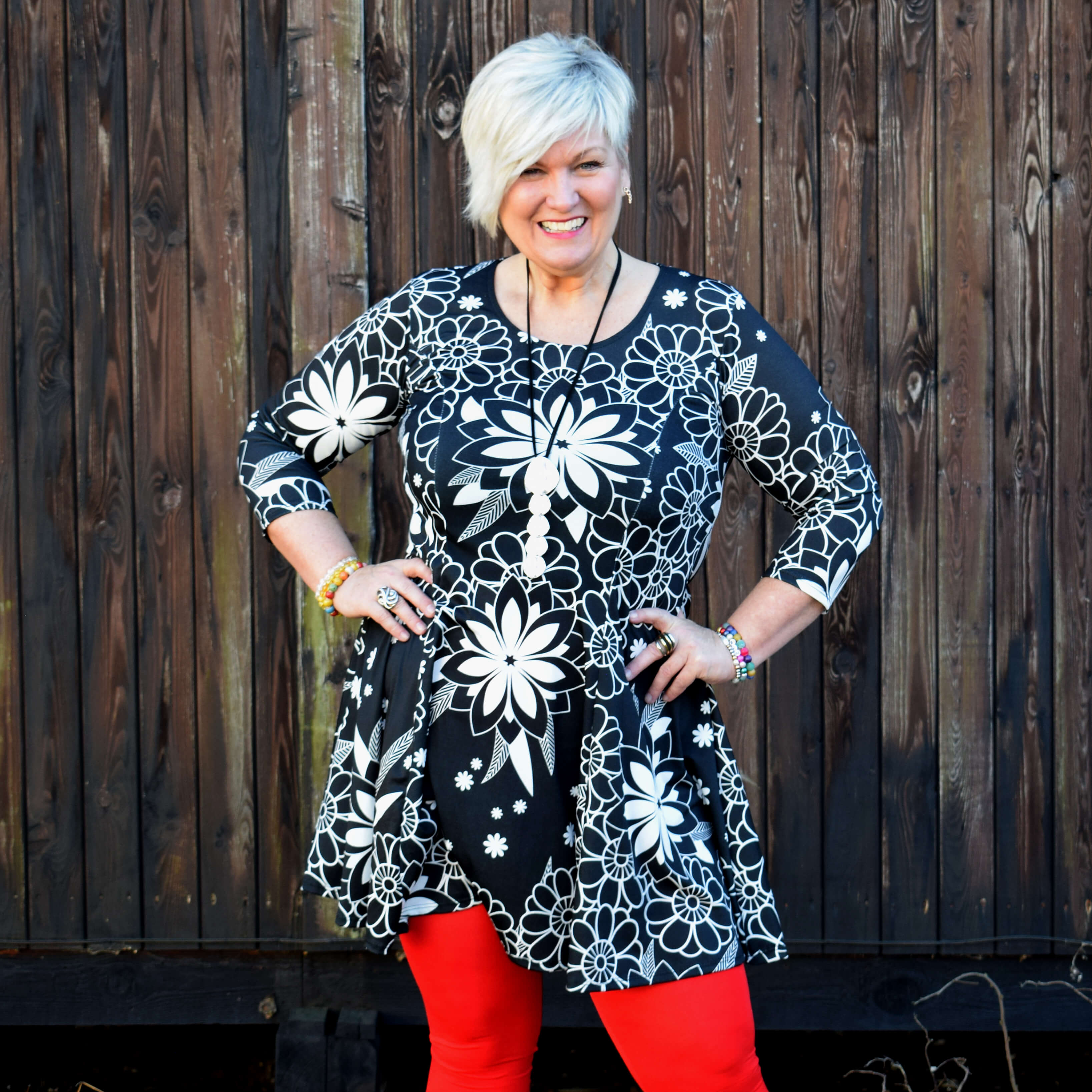 BEATA LEGGINGS NECKLACE BRACELET LEATHER BOOTS

The black and white BEATA dress is an old favorite, which can be used all year around and not only for parties. Give the dress a new look with pops of color. Here we give the look new life with red LEGGINGS and a silver colored NECKLACE.
FRIDA - it is getting greener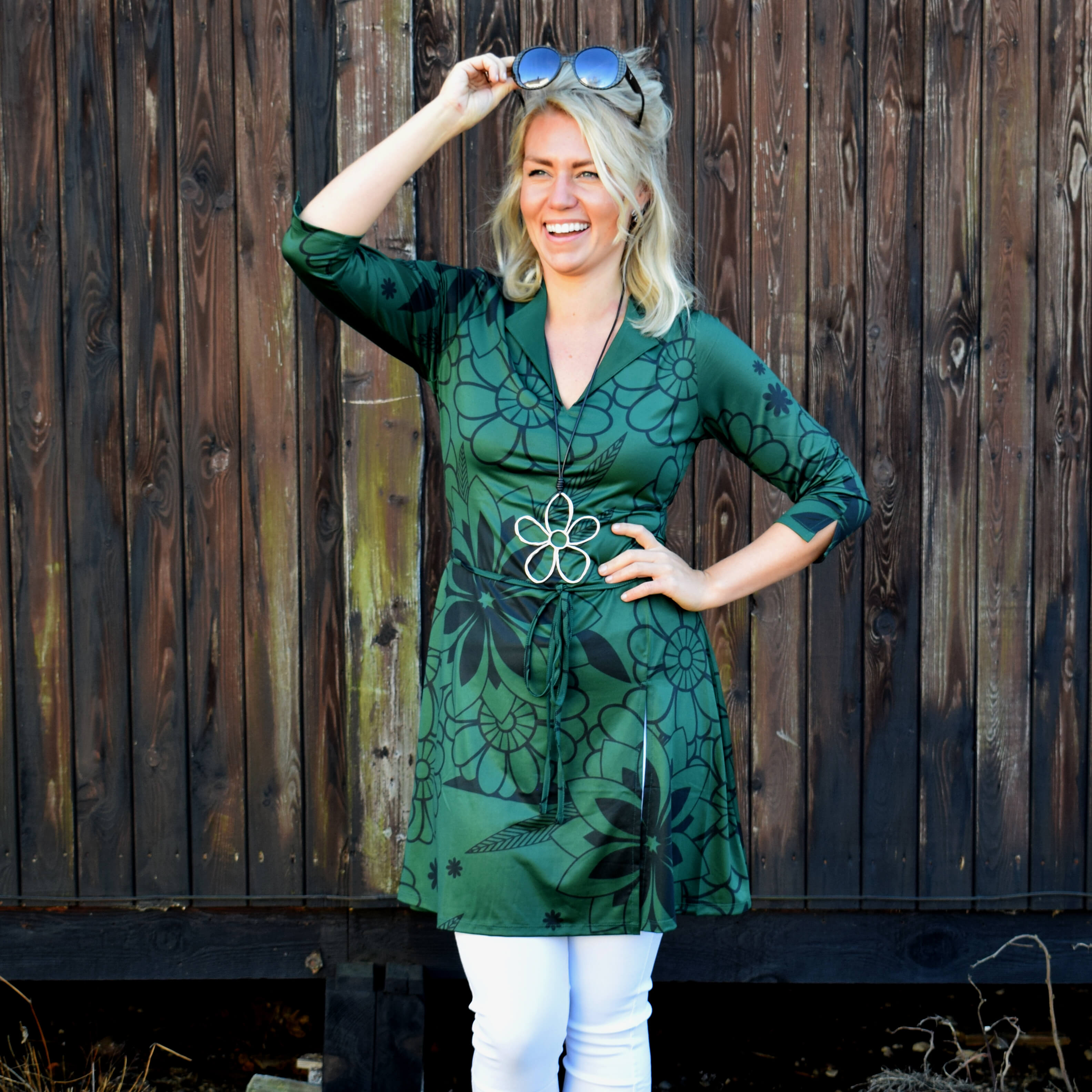 FRIDA STRETCHPANTS NECKLACE LEATHER BOOTS

The dress FRIDA does not feel so dark all of a sudden when it is combined with white STRETCHPANTS. With spring on your mind and a NECKLACE in the shape of a flower it is easy to start looking towards summer.
HELI - the cool easily stleable favorite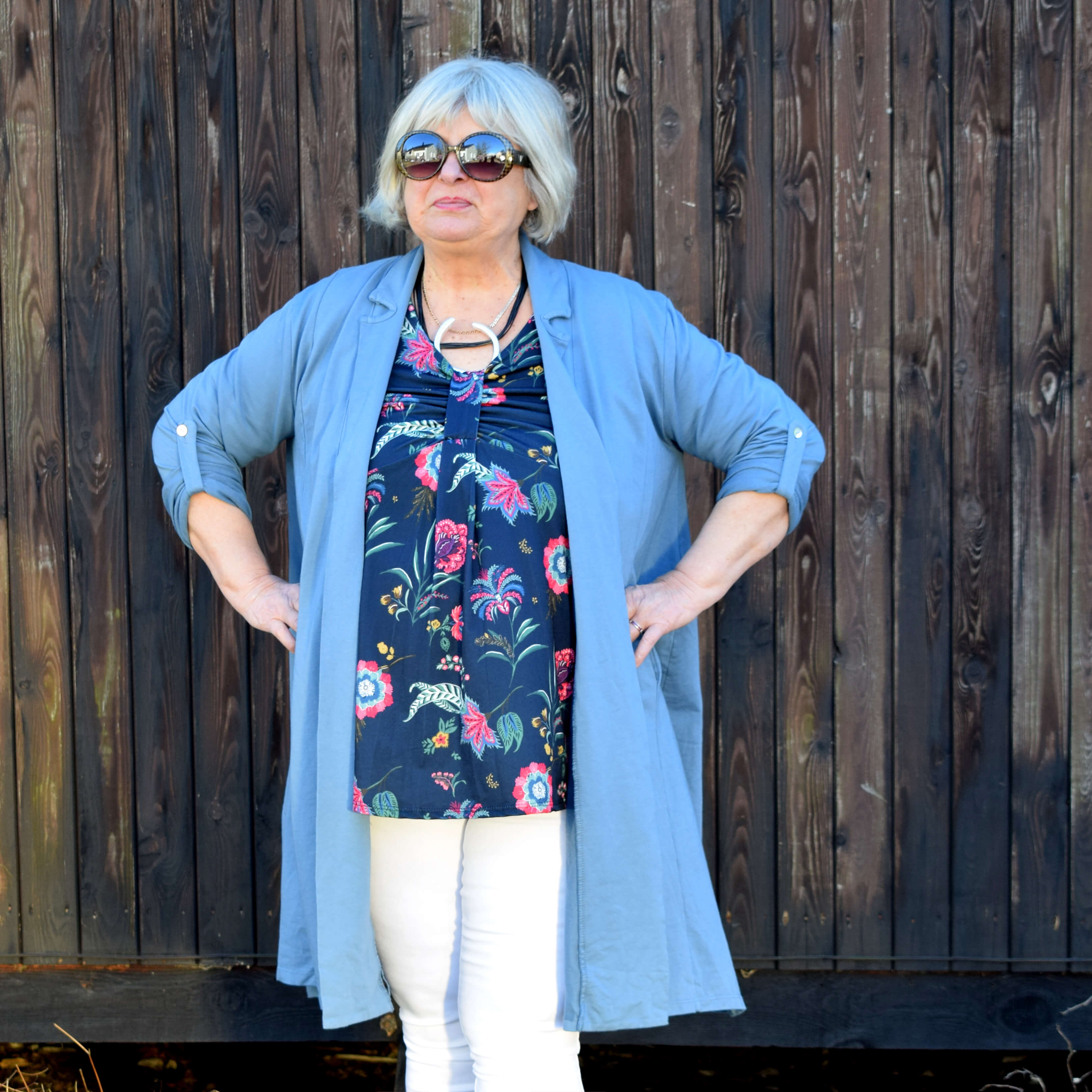 HELI STRETCHPANTS JACKET NECKLACE LEATHER BOOTS
The short sleeved blouse HELI becomes spring fresh with white STRETCHPANTS and a light blue JACKET. When the days get warmer you can take off the jacket. What difference some lighter color makes!
IRMA - glow in orange and purple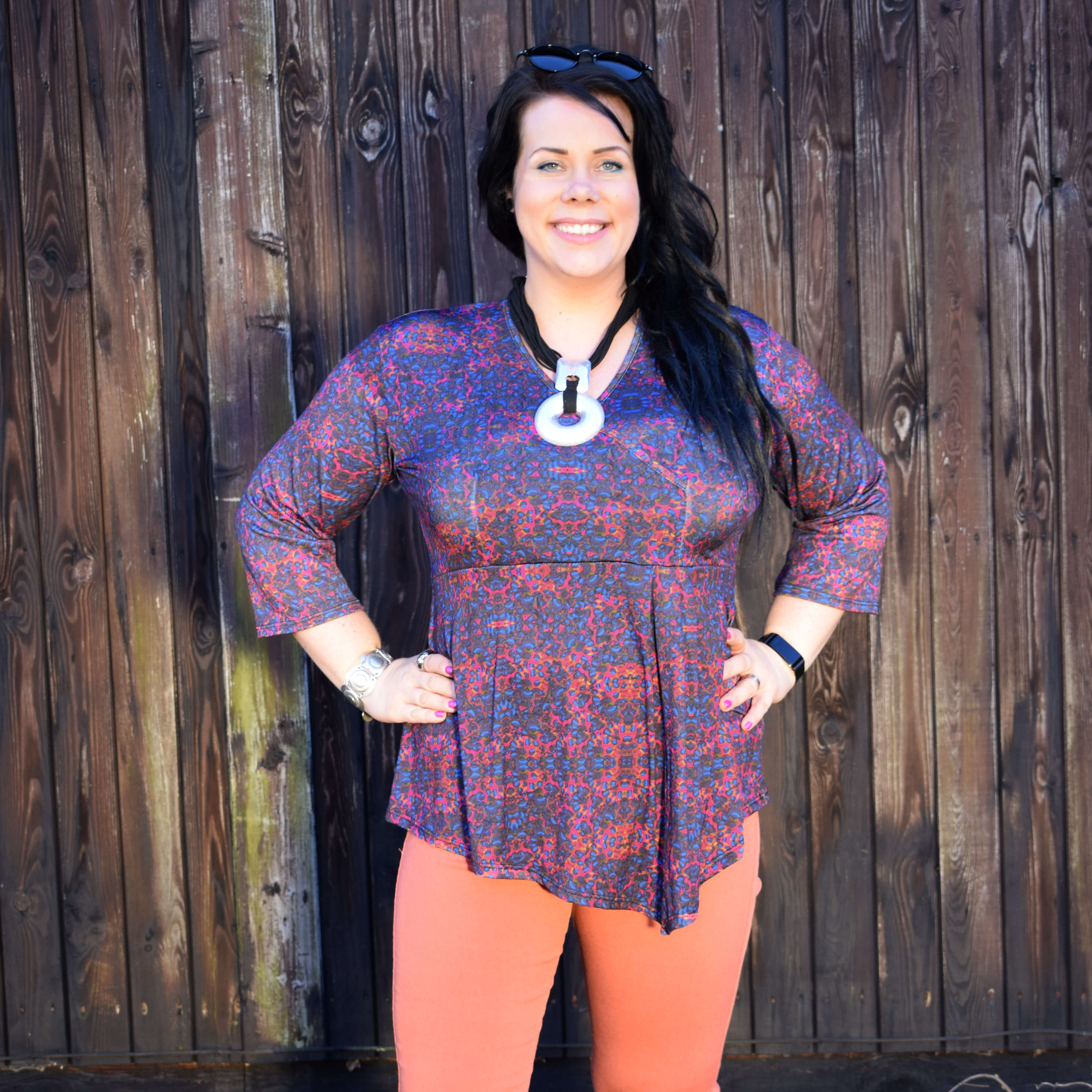 IRMA STRETCHPANTS NECKLACE LEATHER BOOTS

IRMA looks good with a pair of black jeans, but does not pairing it with apricot colored STRETCHPANTS look slightly better? A big NECKLACE gives the blouse a bit more edge and that little extra something. A perfect everyday outfit for spring!
LAURA - beautiful bird print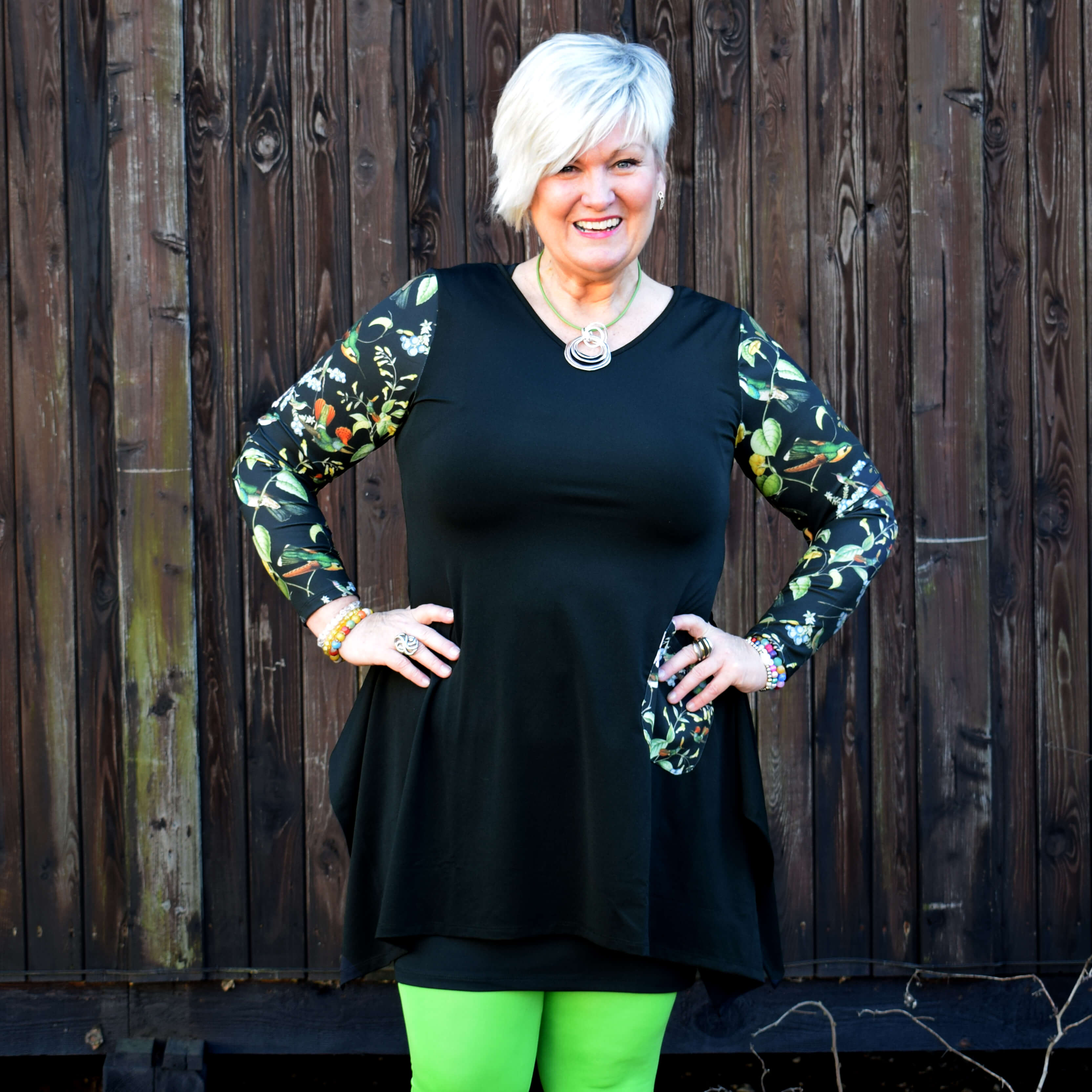 LAURA LUNIKA LEGGINGS NECKLACE BRACELET

Give the tunic LAURA a new look with bright green LEGGINGS and a NECKLACE with a green string! The green color fits perfectly with the pattern on the arms of the tunic. Under the tunic you can see the long top LUNIKA peeking through. LAURA is a favorite all year around! Clothes with long sleeves can be folded so that the arms show a bit moore, which gives them more of that spring feeling.
LINA - asymmetrical meets stripes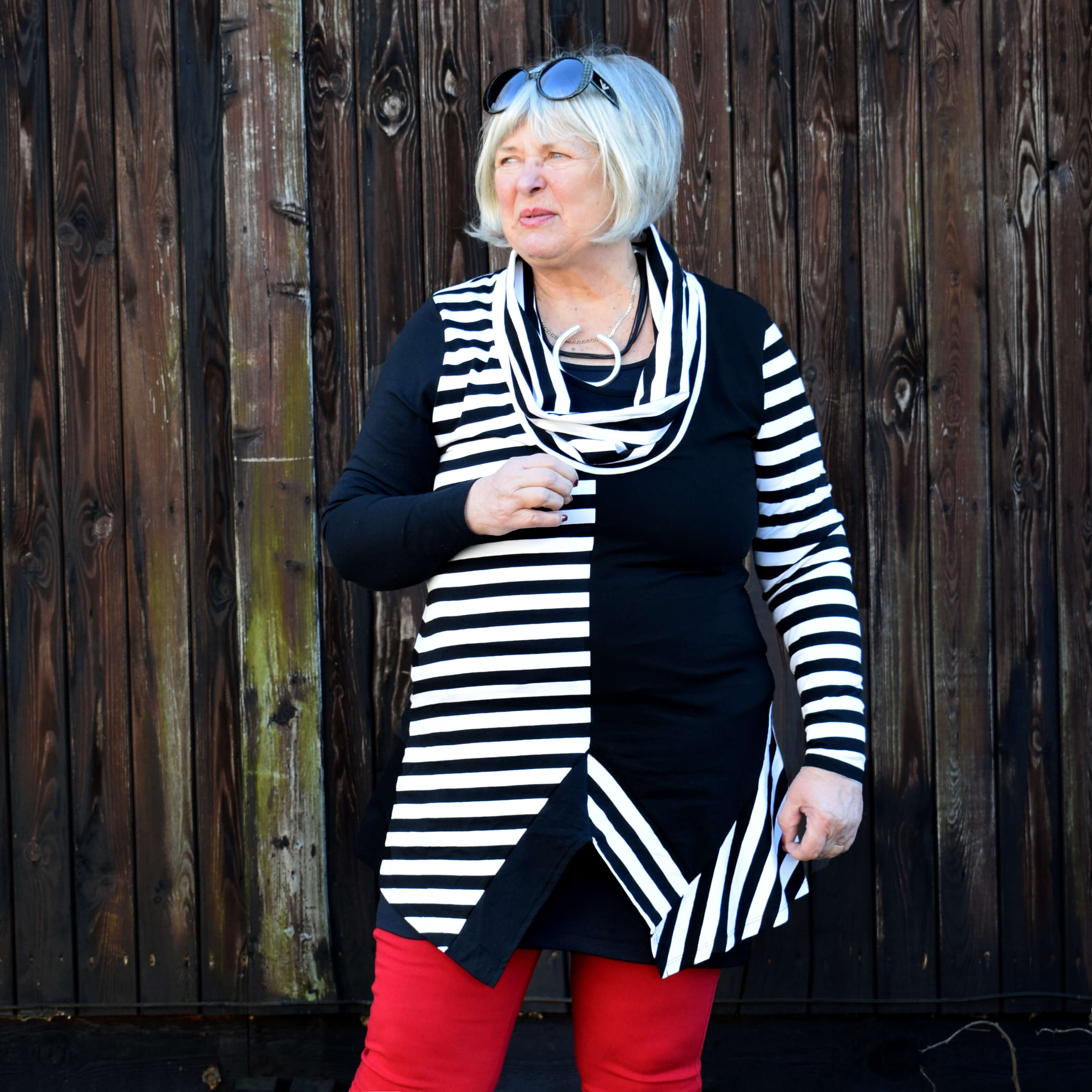 LINA STRETCHPANTS NECKLACE LEATHER BOOTS

The black and white LINA tunic goes well with a pop of color, just like the black and white BEATA dress! We decided to combine this one too bright red STRETCHPANTS and a short NECKLACE. The soft cotton fabric makes LINA a comfortable choice during all seasons. You can never go wrong with wearing stripes.
MIRJAM - spring flowers and turquoise sea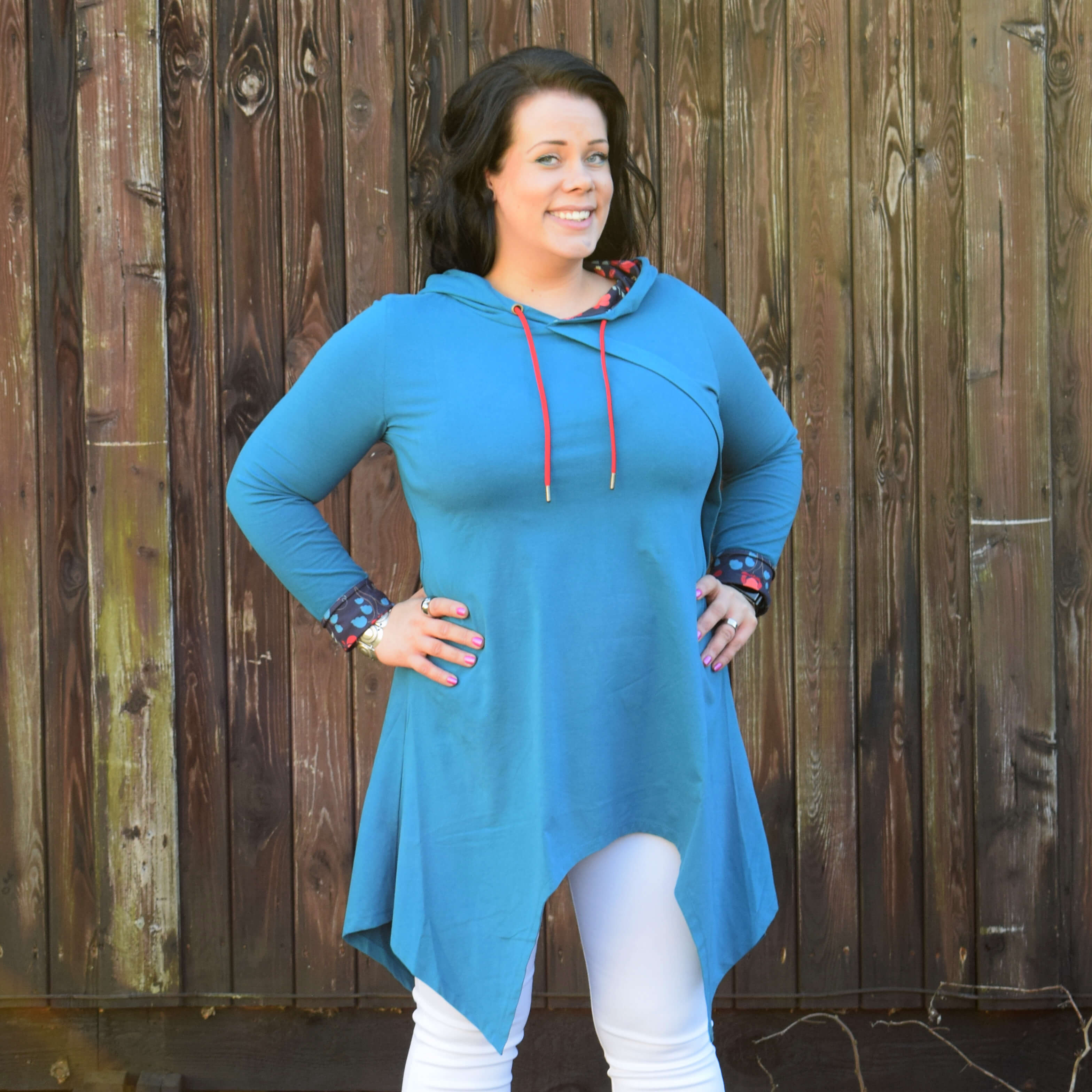 MIRJAM STRETCHPANTS LEATHER BOOTS

The turquoise tunic MIRJAM suits every season, but white STRETCHPANTS gives it that spring look. This outfit does not need a necklace. Let the beautiful details of the tunic speak for themselves. Look cool and comfortable in COLOR!
PIA - combine dots and stripes with a color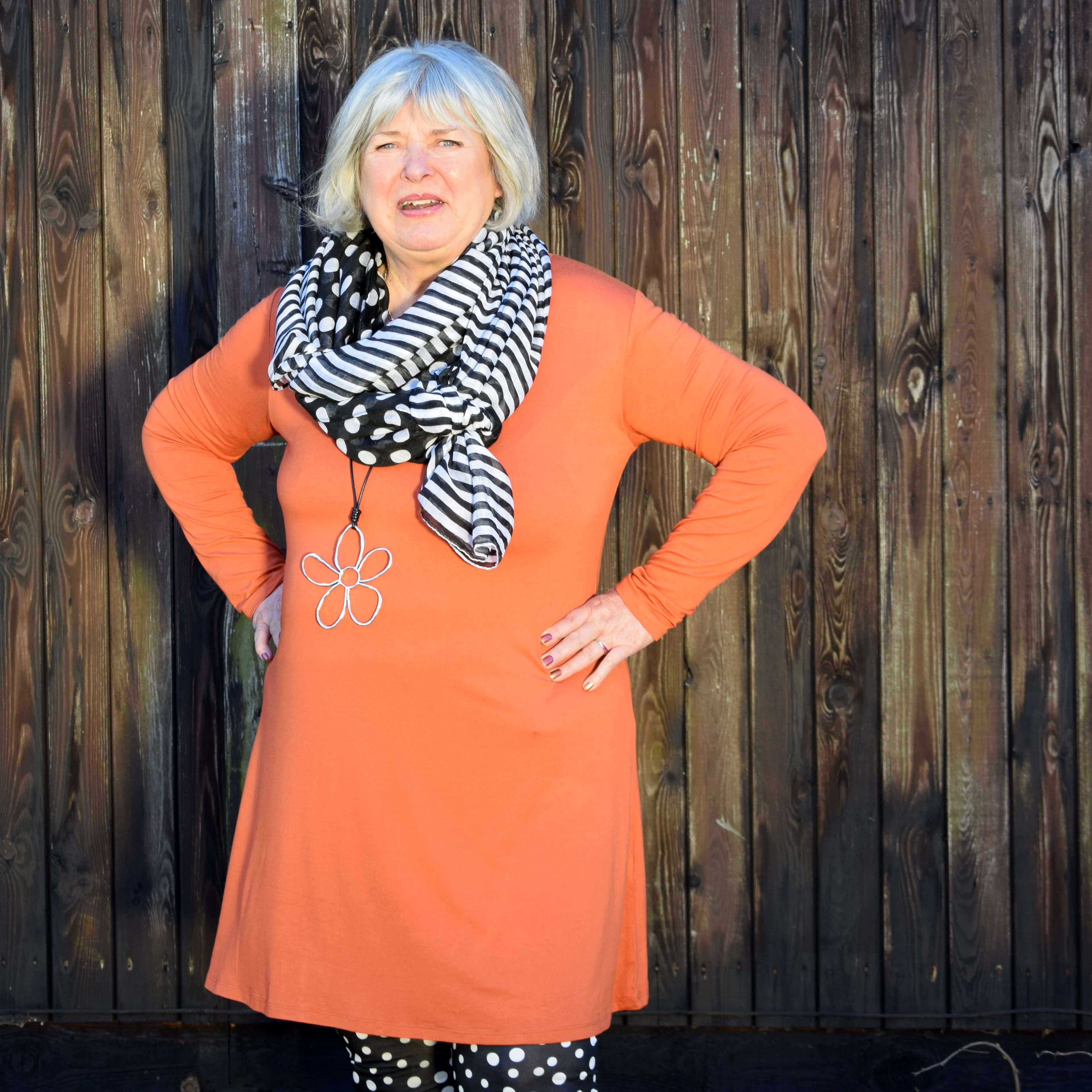 PIA LEGGINGS WITH DOTS NECKLACE DOTTED SCARF STRIPED SCARF

Dots and stripes gives the orange tunic PIA life and makes it look fresh for spring. When combining two SCARVES you get a cool look. A big necklace with a flower sets the tone and gives the orange color a feeling of summer.
SEIJA - a dark favorite with a luxurious feeling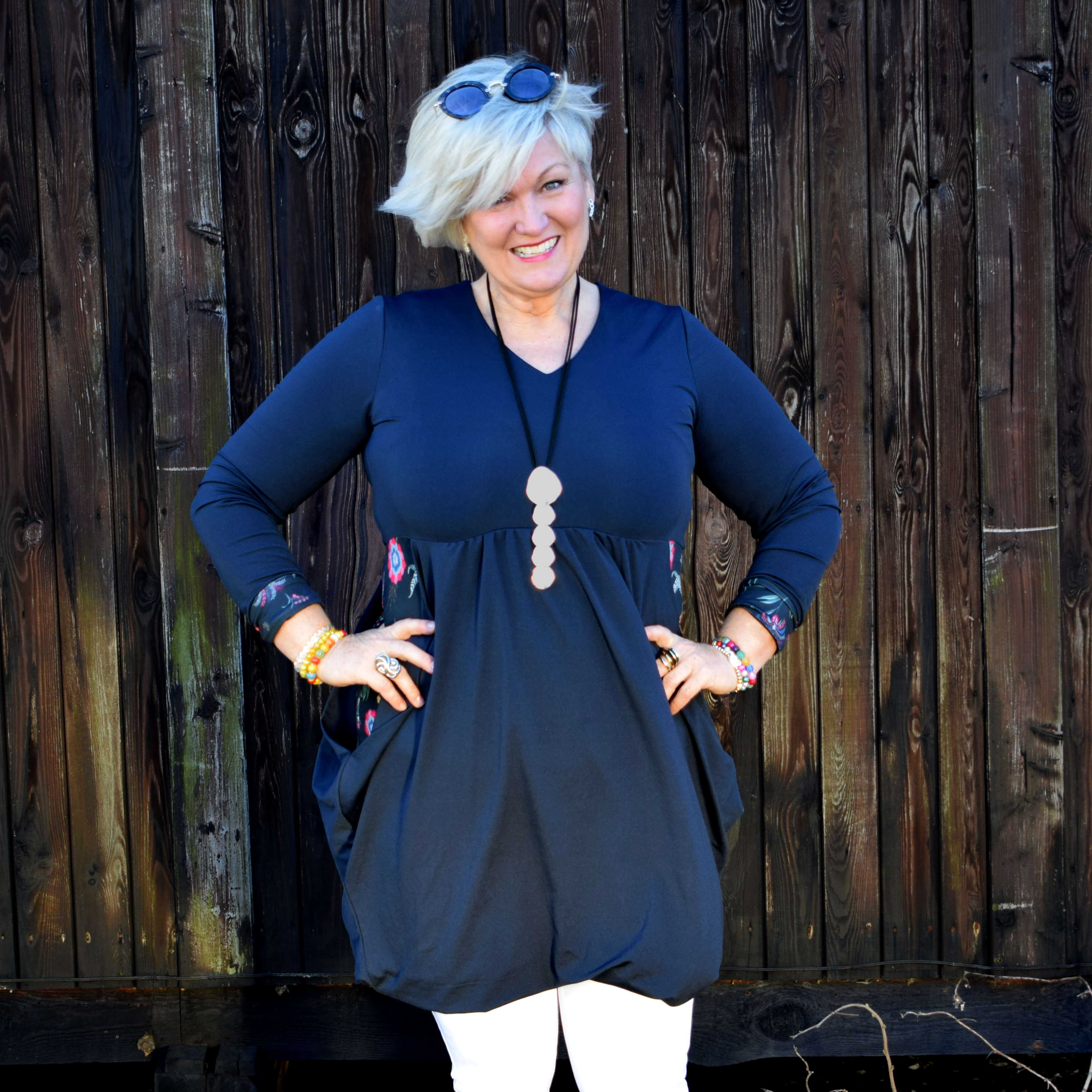 SEIJA STRETCHPANTS NECKLACE BRACELET LEATHER BOOTS

The flatter tunic SEIJA has become many people's favorite piece of clothing. Just because a clothing piece is dark and has long arms it does not mean that you have to pack it away with the rest of the winter clothes. Combine white STRETCHPANTS to the tunic SEIJA to give the outfit a completely different feeling. Here I choose to add a long silver colored necklace.



Hugs/
Marie